Submitted by Florida Web Media on
Mobile website design options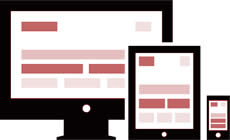 If you want to deliver your website to mobile devices such as smartphones and tablets, you essentially have couple of options.
Do nothing: Just leave your website as it is and let the user's mobile browser render it. However, this approach is not recommended because your existing website most likely is designed for desktop computers and may not display correctly on mobile devices such as iPhones, Kindle, and Andrioid and Windows powered smartphones. Websites made for desktops and notebooks are also memory intensive and consume more bandwidth. As a result, your website is less effective on mobile devices since many smartphone service provides limit bandwidth usage or charge extra fees for additional bandwidth. Thus making mobile users leave your website.
Create a separate mobile website: Develop a "lightweight" version of your website tailored for smartphones and people on the move. This approach will utilize a sub-domain to host your mobile website. For example, m.yourdomain.com or yourdomain.mobi
Responsive Web Design (RWD): This approach is like "one size fits all". A website developed using this method is viewable on every device seamlessly. Responsive Web Design uses different layouts for different screen sizes. This approach is ideal because web pages automatically scale to fit on all devices such as smartphones, tablets, notebooks, desktop computers etc.
If your website is not mobile friendly, Florida Web Media can convert your existing website to a mobile optimized website. Contact us today!