Can local consumers find your business?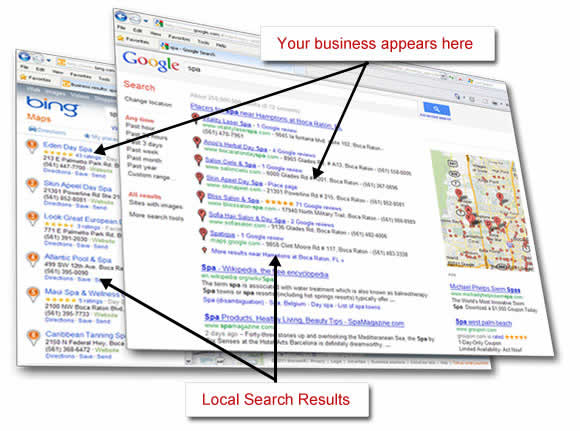 What is local search?
A local internet search is performed by a consumer who is looking for a product or service in a particular area. For example, a consumer looking for "New York Style Pizza" in Ft. Lauderdale, Florida goes online instead of using a phone book. The consumer goes to a search engine, i.e. Google, Bing or Yahoo! and types in "New York Style Pizza Ft. Lauderdale, FL". The search engine will return results for pizza stores in Ft. Lauderdale, Florida that serve "New York Style Pizza". This is referred to as a local internet search.
Why does local search matter?
Local Search is different from traditional online search. When people search with local intent, they expect to see local search results on Search Engine Results Pages (SERPs). Local Search is the biggest opportunity ever for locally based businesses to get online, get found, and get more new and repeat business. As a local business owner you rely almost exclusively on shoppers in your local and surrounding areas. If you can provide what local shoppers crave, you are in business. But how can local shoppers find out about your products, services or offerings? You may have a great offer, but no one will know about it if you do not advertise it. Local Search gives your business that opportunity to promote your offerings to local customers for free!
Benefits of local search
Your listings will appear in local search results
You advertise your business for free
You will find targeted customers
You promote discounts, offers and promotions for free
Your business map appears on major search engines, directories and smartphones
Act now, get found and attract more customers!
If you have a website, that's great but is it enough? Can local consumers find your business when they perform an internet search for looking for the products or services you offer? We are not trying to sell you a website to make it happen. In fact, you don't need a website to promote your business online. However, if you do, that's great!
South Florida local Internet marketing
If you wait too long, your competition down the street will gain the advantage. Contact Florida Web Media today at (561) 291-9932 to find out how we can help you get your business listed on search engines.